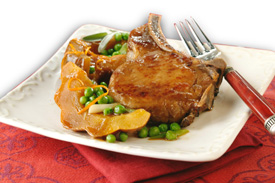 At Texas All Natural, we specialize in center-of-the-plate proteins, all-natural premium meats, farm fresh produce, and other food service items.
Our select cuts of beef, chicken, and pork are all processed and packaged here in Dallas, Texas, and delivered directly to your restaurant or food service establishment.
The creative and talented culinary team at Texas All Natural is available to discuss current problems, create solutions, and bring innovative and exciting new menu ideas. If you need to cut costs, there are creative ways to do it without cutting quality.
At Texas All Natural, we pride ourselves on customer service, consistent quality products, and on-time delivery.
Do you have an All Natural product manufactured in Texas? If so, please contact our New Product Specialist on the About Us page.

Texas All Natural by Patterson Food Processors
4000 Ash Lane
Dallas, TX 75223
(214) 821-3300, ext. 103
Email


-- SPECIALS --

---


Ranchland Burgers
20/8 oz. Ground Chuck Patties
$31.99


Beef

Ground Beef
Hamburger Patties
Bulk Ground Beef
Chili Meat
Steaks
Ribeye
Strip
Porterhouse
Filet (Tenderloin)
Flatiron
Sirloin
Chopped Steak
Flap Meat, Inside Round, Steamship, Short Ribs
Mexican
Beef Fajita Inside Skirt
Beef Fajita Outside Skirt
Tripas
Lengua
Cabeza
Chicken & Other Poultry

Bone-in Chicken (All Natural, Texas)

WOGS
Airline Breasts
Chicken Wing
Boneless Chicken

Tenders
Sized Breasts (4 oz., 5 oz., 6 oz., 8 oz., 12 oz.)
Random Chicken Breasts (Boneless and Skinless)
Thigh Meat
Mexican
Chicken Fajita Seasoned Breasts (Boneless & Skinless, Frozen)
Chicken Fajita Seasoned Thigh Meat (Boneless & Skinless, Frozen
Other

Quail
Cornish Hen
Pork

Bone-in Pork (All Natural, Texas)

Butts and Shoulders

Center Cut Pork Chops

Chicken Wing
Boneless Pork

Tenderloins

Butts and Shoulders

Ground Pork
Mexican

Choizo

Fajita Seasoned Diced Pork

Other Meats

Veal

Butts and Shoulders

Center Cut Pork Chops

Chicken Wing
Lamb

Tenderloins

Butts and Shoulders

Ground Pork
Breakfast

Choizo

Bacon

Sausage